Nine Arches Bridge, Ella, Sri Lanka
Nine Arches Bridge, also known as Ahas Namaye Palama or The Bridge in the Sky, is an iconic architectural structure located in the mountainous region of Ella in Sri Lanka. It is a magnificent stone bridge, built amidst lush green tea plantations, with stunning mountains in the backdrop. This viaduct was built at Gotuwala between the two railway stations – Ella and Demodara during the British Colonial period is the largest in Sri Lanka. Located almost 3100 feet above the sea level, this 99.6ft high bridge. When one stands underneath it and looks up there is a beautiful sight of 'nine skies' through the nine arches, hence the Sinhala name. This ancient construction is 91 meters long and 24 meters high and never fails to leave tourists spellbound at its beauty. 
There is a popular story to say that when construction work was commenced on the bridge. Soon after this bridge was constructed by the British, the First World War broke out. Thus, the steel used in the development of the bridge was used in the weapons for the war. But, a Sri Lankan named Appuhami took it upon himself to complete the construction. This builder meticulously worked on the development, with the available material and finances, and before the deadline. The bridge was built of stone and cement and has stood tall till date. The bridge was finally commissioned in 1921. which is an architectural wonder. Photographers from all over the world consider the Nine Arches Bridge the perfect spot for photography.
Sri Lankan Leopards 
The Yala National Park is among the oldest and best known of Sri Lanka's 15 National Parks. It covers approximately 1,300 square kilometers and is home to a range of ecosystems found nowhere else in Sri Lanka, Yala national park is very popular for its growing leopard community and also one of the best places to see leopards ( Panthera Paradus Kotiya) in the world. It has been confirmed that the Yala National Park has the highest density of leopards to be found anywhere in the world and is as much as one leopard per square kilometer. Though the prevalence of the Sri Lankan leopard population is high (300-350 leopards in total, of which 30-50 roam around Block I).
Udawalawe National Park, Sri Lanka
Udawalawe National Park gets its name from Udawalawe reservoir that was built on Walawe River. Animals that were displaced due to the development were shifted to the national park. It is one of the oldest national parks in Sri Lanka that was established in the year 1972. National Park is located approximately 230 km south-east of Colombo city. The park covers almost 30,821 hectares and an annual rainfall of 1524 mm and an average temperature of 29.4c. It is most famous for the many elephants that live there.
The area where this national park is built over was earlier used by farmers for shifting cultivation but then they were removed from this area. This national park in Sri Lanka is especially known for being home to water birds and Sri Lankan elephants. You'll find herds of more than 50 Sri Lankan elephants here and there are close to 600 of them in the park. Udawalawe is home to a few other species of mammal. Carnivores such as the rusty-spotted cat, the fishing cat, and the Sri Lankan Leopard are not unknown.
Yala National Park 
Yala initially declared as a sanctuary on 23rd march 1990 and was upgraded to a national park 25th February 1938 under the fauna flora protection ordinance. Park is well recognized as one of the best locations in the world to observe and photograph leopards in the wild. The park covers almost 97,880.7 hectares and bounded on two districts of Monaragala and Hambantota. It is very diverse with open grasslands, closed forest, scrub jungle, rocky ridges, golden beaches, and small tanks.
Yala National Park has the perfect habitats for the large number of endemic plant and animal species unique to the country, thus making it one of the chosen wildlife safari destinations that features on everyone's tour itineraries. There are 44 species of recorded mammals in this National Park, which include the Sri Lankan Leopard, Sri Lankan Sloth Bear and Sri Lankan Elephant, 215 species of birds, 46 species of reptiles and 21 species of amphibians.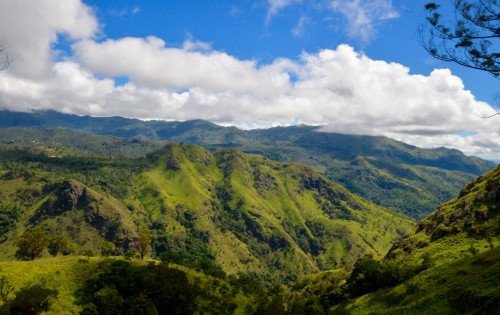 Ellla Gap, Sri Lanka
Ella Sri Lanka can be best described as a small laid-back village in the woods. This small town sits at 1000 meters above sea-level and surrounded by a ring of mountain peaks. Ella has a peaceful and spellbinding beautiful green countryside, that's the most striking part of Ella.
Ella Sri Lanka is undoubtedly the most beautiful Gap in the island of Sri Lanka. Ella gap is nestled between two huge geological upheavals towards the southern end of the central mountain range. A lot of tourists is curious about this destination and makes inquiries often about making holidays in Ella.